Here at NG Logic, we know how difficult it can be to achieve your goals while also making sure your staff remains healthy during the ongoing COVID-19 pandemic. Rest assured that we're here to help craft wonderful innovative IT solutions that will help you grow your business during these troubling times.
We design custom applications to perform specific functions for both web solutions and desktop programs. We're involved in the entire process from planning and needs assessment all the way to design, implementation, and maintenance.
In recognition of our hard work and dedication, we've been named a 2020 Clutch leader in Warsaw Poland. Clutch is a B2B ratings authority that helps businesses find partners for their latest projects.
We'd like to extend a special thanks to our clients for making this award possible. They took the time to speak with Clutch analysts to provide insight into how effective of a partner we are. We were graded along the lines of quality, attention to project timelines, and overall project management skill. We're happy to say we've received a 4.6 rating on a 5-star scale. Take a look at our most recent review below: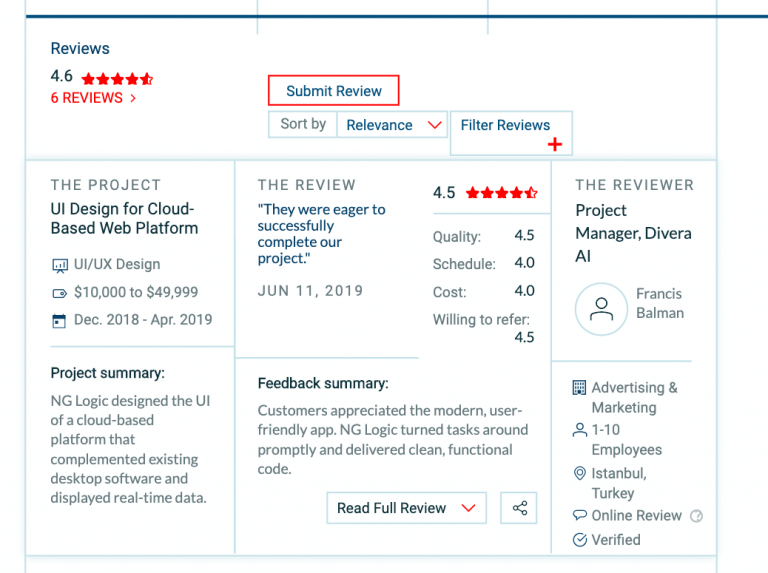 "We feel the Clutch Award is a confirmation of our commitment to making our customers successful with their software projects." – Marcin Wudarczyk, CEO
In addition to Clutch, we've also been highlighted by The Manifest and Visual Objects, two other B2B resource platforms. The Manifest, a how-to guide and business data resource, names us among their top developers to partner with. Visual Objects, a portfolio site, similarly names us a leading force in the web development space.
We're over the moon to receive this award. Once again, a huge thank you to our clients and the Clutch team for making this award possible. Contact us today to start your latest project with us!