Hire world-class product team.
Find a high-class software product team that will fit, enhance, and upgrade your company IT department.
What is an extended product team?
An extended product team combines all the pros of a normal in-house product team and outside contractors. You get a remote team of highly skilled developers and software experts working within your tech team dynamics and company structure. However, they don't simply focus on finishing tasks. They actively come up with new, better solutions for your company.
Outstanding teamwork, easy management, and quick onboarding process. With an extended product team, you get a complete package that comes with all necessary positions, such as front-end, and back-end developers, DevOps, team leaders, and project managers.
Establishing an extended product team.
With 20 years of experience, we have streamlined the process from initial order to having a fully functional product team ready to commence work in your organization, making it a straightforward and uncomplicated experience.
On average, it takes 32 days from understanding your needs to fully onboarding your extended product team.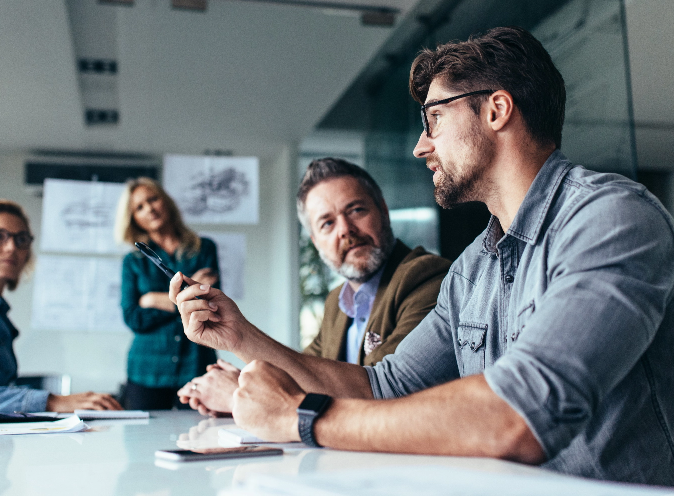 First, we need to understand what your digital product is. What are the challenges? In which direction do you want to develop it? What is your tech stack? We need to know everything there is to make sure the assigned team is the perfect fit for your product.
2
Assigning
the personnel
In most cases, we have a free product team ready to jump into your project. However, if the technology or the developers aren't a perfect fit, we will source new talents to fulfill your needs.
3
Onboarding
and management
All management and HR work is done by us so you can focus on planning the development of your digital product and throwing the challenges onto our product team.
The value we add to your company.
World-class software talent pool

Seamless integration into team dynamics

Simplified team management

No HR agency costs

Quick and efficient onboarding

Eager and proactive software experts

Extended product team
characteristics.
Bodyleasing
Skill level is hard to verify
Quite often bad cost to quality ratio
Often bad communication, different time zones
Hard to manage in a longer period of time
Nearshore development
Skill level is hard to verify
Usually good cost to quality ratio
Communication might be slower because of the middleman e.g. PM
Being a separate entity, might be sometimes hard or slower to manage.
Extended product team
Easily verifiable skill level - they work with you
Usually good cost to quality ratio
Works as a part of your team - communication like with any other team member
Focus on delivering tech solutions and teamwork - we take care of the HR.

Our experience.
We have over 20 years of experience in the global IT market. Most of our long-term clients are US-based fast-growing businesses that find our collective software expertise one of our strongest points. We have a proven track record of delivering high-quality future-proof technical solutions that perfectly answer our clients' business needs.




Ready to talk?
Leave us a message and we'll write right back!
Martin Wudarczyk
CEO of NG Logic