NG Logic Wins Clutch Leader Award as a Top Developer in Poland!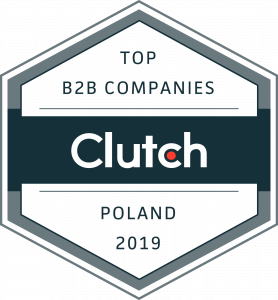 While it's true that talented developers are worth their weight in gold, impeccable programming expertise isn't everything. Working with the right IT partner involves more than just lines of code. You need to have a good balance of hard, technical skills and a strong, collaborative attitude.
At NG Logic, we understand that customer service is a key factor in not only facilitating teamwork but also ensuring project success. That's why we're brimming with pride about our placement on Clutch's annual report for top developers in Eastern Europe!
Clutch is a B2B ratings and reviews platform that ranks service providers around the world. In addition to researching industry leaders, Clutch takes into account several factors to determine a company's ability to deliver, including market presence and technical adeptness.
But, above all else, client feedback is central to the evaluation process. Clutch's business analysts personally interview past clients to collect verified, case study-like reviews of each vendor. Just take a look at our recent review from the strategy consultancy Divera AI: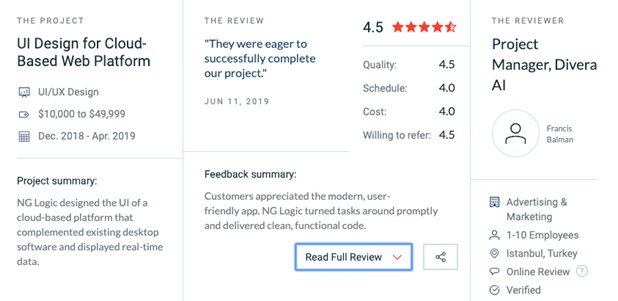 We took a collaborative approach, working cooperatively in each development phase, from strategy planning and design to programming and implementation. Divera AI's positive review—and others like it—was instrumental in helping us secure a Clutch Award.
"We feel the Clutch Award is a confirmation of our commitment to making our customers successful with their software projects." — Marcin Wudarczyk, President
Our work on Clutch has also made us eligible to be featured on Clutch's sister sites: The Manifest, a research hub of how-to business articles, named us one of the highest performing firms in app development. And Visual Objects allows clients to browse our portfolio and visualize future projects.
Got a project on your mind? Take a look at our past work and get in touch with our team to walk through some of your options! We'll be glad to answer any questions and provide free advice.