The opportunity solution tree is a framework supporting product discovery and achieving desired outcomes. Find out how it works and how you can leverage it for your business.
Product discovery is the process companies use to identify and define the problems they aim to solve with their products or services. It's the crucial first step that paves the way for successful product development and guides you through the landscape of ideas and solutions.
However, navigating this labyrinth is challenging, with countless paths to explore and many methods to structure the journey. Especially when time is of the essence, which is always the case in the IT industry.
Product management has been evolving to streamline this process and better align it with customers' needs and emerging business models. The focus has changed from creating comprehensive product requirement documentation to experimenting in search of viable solutions.
Now, product teams put more effort into discovering unmet customer needs and figuring out ways to address them more effectively.
This shift in the approach to the product discovery process helps save time and money and identify better business opportunities than those considered in the first place, ultimately resulting in a win-win for companies and consumers.
What is the opportunity solution tree?
One of the techniques for effective product discovery that has gained the spotlight in recent years is the opportunity solution tree (OST). It's an invaluable tool for exploring opportunities and enhancing the decision-making process. It was designed to increase the efficiency and fruitfulness of the product discovery journey by highlighting underlying assumptions and generating new, better ideas.
The opportunity solution tree is essentially a visual framework used during the product discovery phase and product design sprints. It helps product teams explore and map out potential problem areas and generate solutions that target issues with precision.
The method encourages structured thinking and ensures that the options under consideration are directly aligned with the identified problems. It also prompts teams to search for less obvious solutions that are initially hard to identify due to ill-defined problems and become manifest when the problems are properly reframed.
The opportunity solution tree framework was developed in 2016 by Teresa Torres, an internationally recognized author, speaker, and product discovery coach.
In her own words, the opportunity solution tree "is a simple way of visually representing how you plan to reach the desired outcome" by "making implicit assumptions explicit."1
How does the opportunity solution tree method work?
The key premise behind the opportunity solution tree model is that too often we – with special focus on product managers in this context – are stuck with limited resources because we're fixated on one solution or a short-term goal.
Torres brings up an example of wanting to buy a house. If we realize that house ownership is a means to feel more grounded in the community, then we can move up a rung on the ladder of goals and think of other solutions to achieve the same outcome, like joining a social club or volunteering.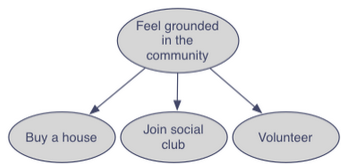 This way, easier options become viable solutions to a larger problem. This "mind trick" may yield good results in personal life, but it can also facilitate achieving business objectives and streamline the product development process.
Obviously, it's not the complete OPT method. Laying it out in detail would take a book, according to Torres, who wrote one.
Identify the desired outcomes
To develop the product strategy with the OPT approach, start with identifying the desired outcomes. You can use the objectives and key results (OKRs) method or specific metrics you want to improve, like revenue, customer satisfaction retention, etc. In each case, you should consider the ultimate outcome driven by a product vision or key customer problems you aim to solve.
Branch out to opportunities
Then, you branch out to the area of opportunities. This step can be based on market and customer research, user feedback, or internal observations. The idea is not to jump straight from a desired outcome to solution ideas, as most teams do. Instead, you should seek opportunities that emerge from your analysis of unmet customer needs and pain points or market gaps.
Identify solutions
Potential solutions come as the next step. You can analyze as many ideas as possible as long as each one is bounded by an opportunity. There's no "orthodox" method for conducting this part. Just engage whoever you think fit and start brainstorming ideas. In general, opportunity solution trees encourage creativity and innovation, as they allow for the exploration of multiple avenues to identify opportunities and solution ideas.
Perform experiments
Obviously, not every branch or solution will bear fruit. You need to evaluate them and select the best. How to do it? Experiment. It's the bottom row on the opportunity solution tree template. As Torres suggests, you should test assumptions that are solutions' weakest points rather than whole solutions. This way, you can conduct fine-grained experiments targeting the riskiest issues instead of broad A/B tests that may miss the point.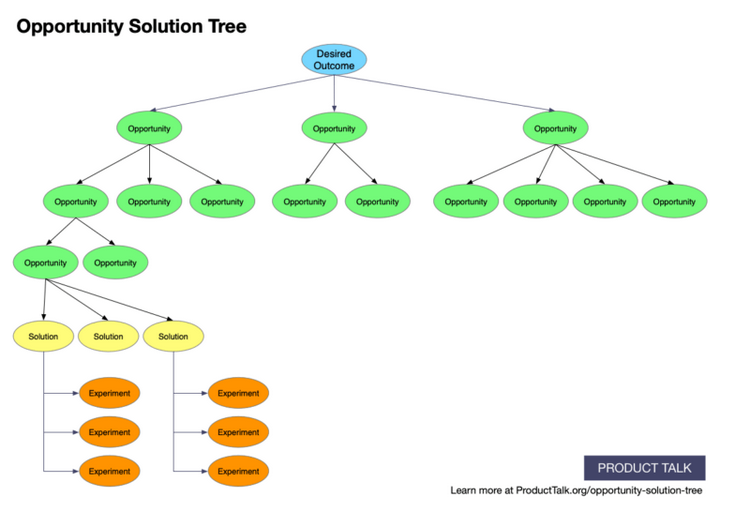 Establish assessment criteria
To select the best options, you need to establish assessment criteria for evaluating the feasibility, impact, and alignment of each solution. Consider factors like cost, technical feasibility, market demand, user value, or other issues, depending on your business objectives or the project's characteristics.
Use only validated solutions
Experimenting serves to validate solutions. As a result, some branches of the opportunity tree, representing less promising solutions, may need to be pruned or set aside. This ensures that resources are focused on the most viable or profitable options. From the remaining branches, select the solutions that show the most potential and promise. These are the ideas that will be nurtured and developed further.
How does the OST support the product discovery process and achieving business goals?
Searching for opportunities and solutions with the OST model can be a game-changing approach for many companies. Leveraging an opportunity solution tree helps solve problems more efficiently, generate innovative ideas, and streamline the product planning process. Let's list the key advantages of the opportunity solution tree framework for your product discovery effort and business outcomes.
Structured exploration
Opportunity solution trees help to better organize the processes of identifying problems, exploring opportunities, and coming up with possible solutions. It ensures that no stone is left unturned in the quest for valuable ideas and that those ideas are substantially related to issues under consideration rather than being free-floating products of a brainstorming session.
Clear problem identification
Support for defining a clear problem space, branching out into opportunity mapping, and other features of the OST model enable product teams to face challenges related to the product discovery process more efficiently. A structured methodology provided by the framework allows a product team to get a clearer vision of the problem and come up with more relevant solutions instead of chasing wrong ideas for ill-defined issues.
Visual representation
The visual nature of the tree makes it easy for teams to see the relationships between opportunities, problems, and solutions. This visual clarity enhances communication and alignment among team members.
Efficient resource allocation
Pruning less promising branches in opportunity solution trees ensures that your resources are directed toward the most viable opportunities. This efficiency not only saves time and effort but also maximizes the return on investment.
Alignment with user needs
One of the key strengths of the opportunity solution tree is its emphasis on aligning solutions with user needs. By selecting solutions directly linked to identified problems, you increase the likelihood of delivering products that truly resonate with your target audience and provide customer value.
Competitive advantage
Businesses that embrace structured problem-solving and innovation gain a competitive advantage. They are better equipped to identify emerging trends, address market gaps, and respond to customer demands effectively.
Key mistakes to avoid when working with opportunity solution trees
Opportunity trees streamline product development and bring you closer to your business goal, but like any method, they come with potential pitfalls. Avoiding common mistakes will help you to better identify key opportunities and achieve the best business outcome.
Rushing through the process
Haste makes waste. If you're too anxious to get to the endpoint, you won't dedicate enough time to clearly define the problem and opportunity space and risk coming to misguided conclusions. Stay focused. Take the time to thoroughly research and understand the problem before branching out to explore opportunities and solutions. The strength of your solutions lies in the quality of your problem identification.
Failure to prioritize
Treating all identified opportunities as equally important can result in scattered efforts and a lack of clear direction. Prioritize opportunities based on factors such as user impact, market demand, feasibility, and strategic alignment. This helps allocate resources effectively.
Neglecting customer needs
Customer needs and preferences are paramount when defining problems and generating solutions. Make sure your product manager keeps the user at the center of the process. Considering every customer need and pain point you can think of in an extensive product discovery will help you boost the business value of your product. So, gather feedback, conduct user interviews, and use data-driven insights to ensure your solutions align with real user demands.
Too much focus on quantity
Taking time is good, but drowning in useless solutions is counterproductive. Generating a large number of ideas without proper evaluation can lead to resource waste and inefficiency. Prioritize quality over quantity. Focus on generating solutions that are well-researched, aligned with identified problems, and evaluated against specific criteria.
Overlooking iteration
The opportunity solution tree is a paradigm of exploration, not a one-time exercise. You should be able to adapt and develop your way of thinking about the product and issues at play in response to changing circumstances. Embrace the iterative character of the framework, and continuously revisit and refine your solutions based on feedback, testing, and new insights.
Lack of cross-functional collaboration
Restricting the opportunity solution tree approach to a single team or department can limit options and hinder innovation. Seek collaboration with cross-functional partners by involving individuals from various teams, including product, design, engineering, and customer support. Diverse insights can lead to more comprehensive solutions.
https://www.producttalk.org/2016/08/opportunity-solution-tree/?ref=https://product-frameworks.com ↩︎